Internship Programs
KUAS Internship Programs
Purpose of the internship programs
"We want our students to become internationally minded people ready to work on the global stage." Together with the Career Support Center, the Internship Center provides career education for our students so that they can lead fulfilling careers after graduation. The purpose of the internship program is for students to not only learn about the meaning of working, but also to gain learning and insights about what kind of workers are needed by society, enabling them to further enrich their career paths and student lives.
List of KUAS internship programs
There are two main types of internship programs that KUAS offers (both are credit-eligible courses).
Programs for students of all years and departments「General internship programs」
Programs that are limited to certain departments and focus on deepening students' knowledge in their field of study「Department-specific programs」
General Internship Programs
Department-specific Programs

(USA, Canada, Netherlands, Germany, Australia, New Zealand, and more!)

Faculty of Economics and Business Administration
Faculty of Humanities
Faculty of Bioenvironmental Sciences
Faculty of Health and Medical Sciences
Faculty of Engineering
---
General Internship Program
All students are eligible to apply for the general internship program. In April, the Internship Center will host information sessions, and students will be matched with their internship placements after going through a screening process. Before the internship starts, there will be preliminary study classes where students do company and industry research to deepen their understanding of their internship placement. Then students will do their internship, which usually lasts for 2 weeks to 1 month, during their summer vacation. In the post-training study classes after the internship, students will reflect on their experiences from various perspectives and present about their learning, insights, and future goals. The number of host countries, participants, and duration of both overseas and domestic programs are expanding every year, and we plan to provide even more opportunities to students this year.
In order to make the most of your internship experience, you must first work on yourself, by yourself, and for yourself. It is important to think about the skills you will need in the future and choose a program that matches your objectives.
Annual schedule for general internship programs
We will send you the latest information, from which you can check the schedule and prepare for participation. Program details will be publicized throughout campus and online via Sentan Navi, posters, and more.
Overseas Internship Program
The overseas internship program (a credit-eligible course) started in the 2019 academic year to help students develop the skills needed to play leading roles in the world. In the program, students travel to areas around the world, including the United States, Europe, and Asia, and experience working in business settings. Host organizations include Japanese companies and local companies, and the program is expanding every year.
In the first year of the program, eight students from first through to third years traveled to the U.S., the Netherlands, Singapore, Thailand, and Vietnam to experience a two-week internship in each country. While there, they were able to understand the organization as a whole through lectures from each department. Students also helped support staff by joining in sales visits, participating in meetings, and engaging in business activities, such as planning and management.
The number of students participating in overseas internships has since been increasing every year. (Due to COVID-19, the programs went online). The duration of the internship usually ranges from two weeks to one month. In 2020-2021, 18 students took up the challenge, and in 2021-2022, it increased to 37 students. With the accelerating changes in work styles and environments, the students made full use of online tools and experienced working while overcoming time differences and connecting with the world.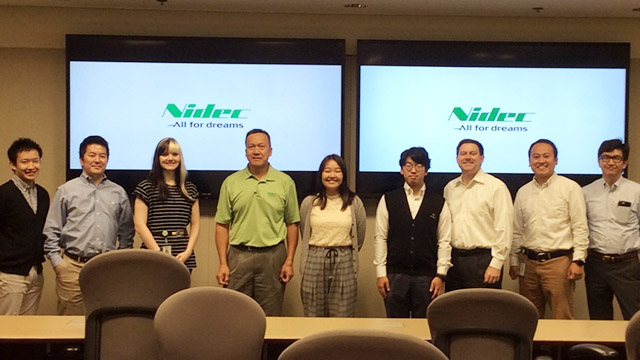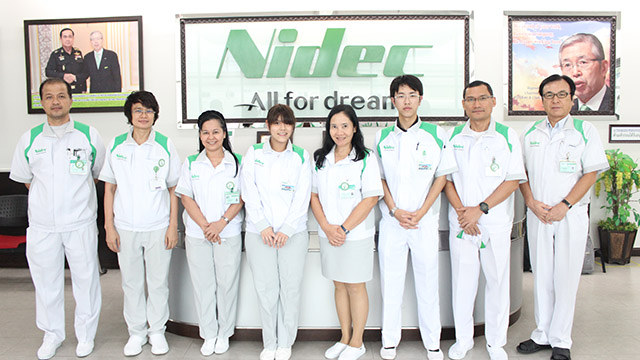 Domestic Internship Program
Students of all years and departments can participate in the domestic internship program (a credit-eligible course) and experience internships with the corporations, government organizations, and non-profit organizations that support Japan. We partner with organizations in a wide range of industries, including government, finance, manufacturing, food, consulting, and sports. Every year we are expanding and developing programs, providing opportunities for students of all departments to apply their studies.
74 students in the 2020 academic year and 201 students in the 2021 academic year were able to gain practical experience in industries and companies of interest. Students expressed various reasons for participating, such as "I want to experience society while I'm still a lower year student", "I want an opportunity that will allow me to think more deeply about my future career path", and "I am interested in the host company or industry on offer". During the internship, students can gain valuable insight into the company and their operations, but also learn how to develop the skills and abilities that society demands from working people.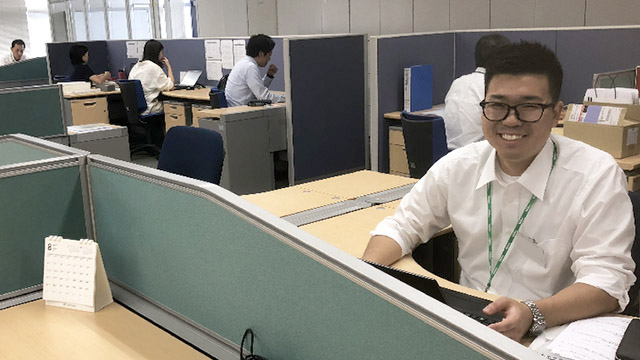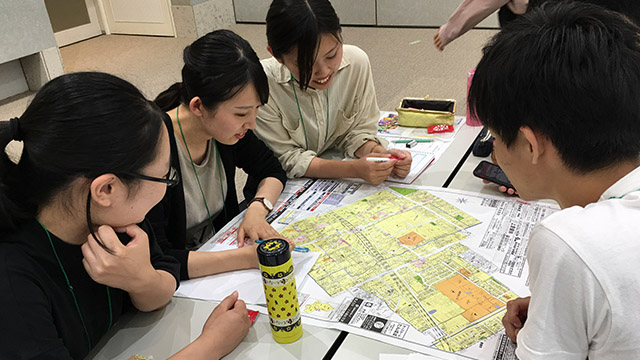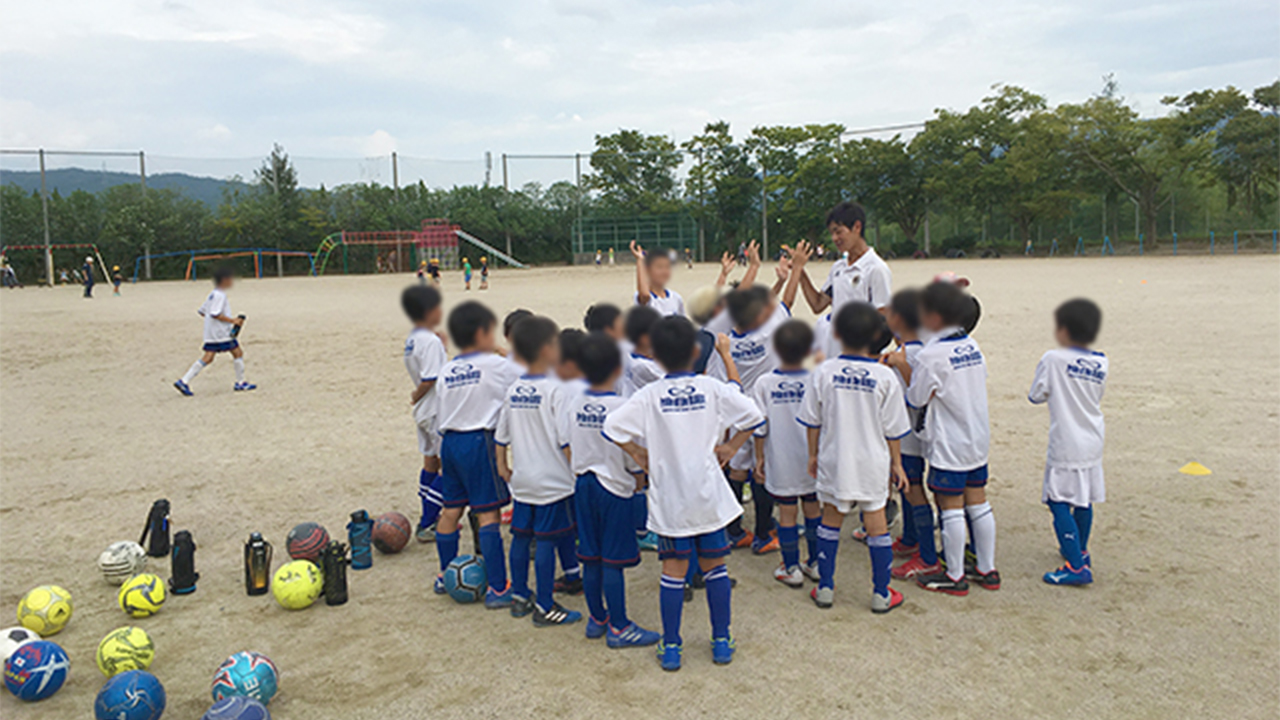 Presentations
All participants (about 240 students) from both the overseas and domestic internships gathered at Mirai Hall on Uzumasa Campus for a culminating presentation about their experience, concluding the four-month internship program.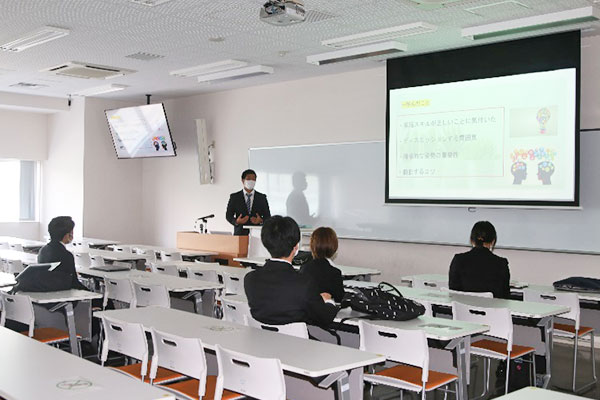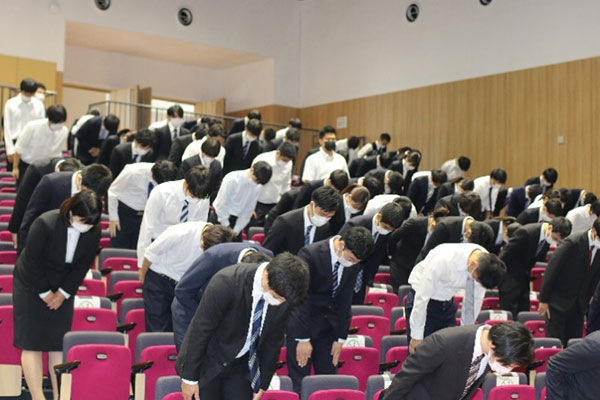 ---
2021 Academic Year Internship Summary
Nidec Corporation (USA branch)
Learning about the power of being No.1 from 18 Nidec Group companies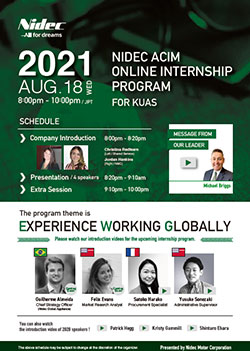 In the overseas internships, students had online access to Nidec Group and their overseas branches around the world, and even facilitated meetings in English. One of the overseas branches, Nidec Motor Corporation, organized an international meeting where four branches in the United States, Mexico, France, and Japan joined together, and students were able to experience how global communication occurs in business. People from various departments and industries around the world shared about their work and careers, enabling students to gain a deeper understanding of the skills required by society.
Student interview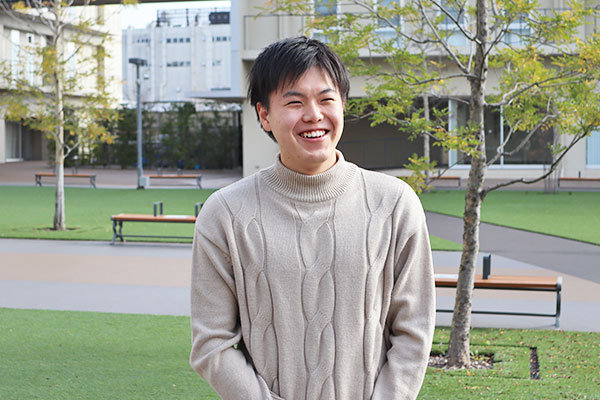 "I want to be someone who can work on the global stage. To do that, I want to learn in an environment that is constantly changing." That's why I chose KUAS. I can still vividly remember that after the entrance ceremony I strongly thought, "I want to do my best at this university".
I was interested in Nidec Corporation after hearing senior students talk about it, and I chose the Nidec Group for my internship. During the internship, I interacted with various branches in the Nidec Group, and I was fascinated to see how all the employees were unified in their aspirations for the goal of reaching "10 trillion yen in sales in 10 years", and they all worked with the pride of being "No.1 in Kyoto and No.1 in the world". During the entire internship program, the 200+ participants were able to exchange information and learn about a wide range of industries and companies. In the future, I would like to be active in an international environment and work in a global company, so I will continue to broaden my horizons by learning about various values systems and also by improving my English skills.
Message to fellow students
You may feel uneasy about internships, but by taking the initiative, you can learn what you want to do and what you are suited for. More importantly, you will have a chance to meet people with the same aspirations. I hope you will make good use of your privilege to make your own choices as an undergraduate student and discover new things and experiences through internships.
(Faculty of Economics and Business Administration, Department of Economics, 3rd year)
Deloitte Tohmatsu Consulting LLC
~ Tackling complex sales problems and honing your abilities at a major consulting firm ~
Deloitte Tohmatsu Consulting LLC (hereinafter referred to as "DTC") became a new internship partner and accepted students for the first time this year, as part of their comprehensive partnership agreement with KUAS. During the internship, students worked as a team to tackle a challenging PBL project where they identified areas for improvement and provided solutions in a sample case with a client company that wants to improve its sales performance. In the process, students developed the skills needed to excel in any field, such as the ability to devise strategies based off of limited information, as well as the ability to find and logically convey the best solution to a problem.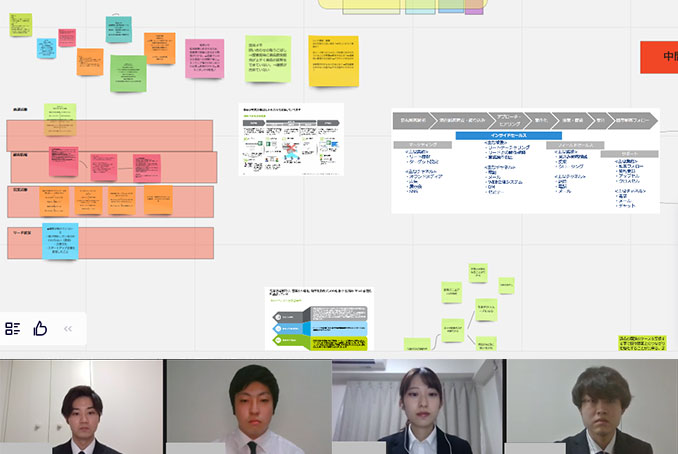 Student interview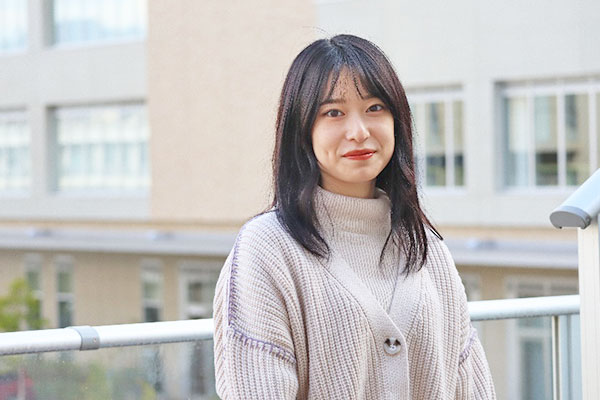 I enrolled in this university because the Chairman of Nidec Corporation, Mr. Nagamori, is also the Chairman of KUAS, and the university has an educational philosophy that emphasizes experience and independence, which is different from other universities. When it came time to start job hunting, I realized that I did not understand anything about myself or society, so I participated in an internship program. During the internship, I was given a project assignment that DTC uses to train new employees, and I worked in a team to tackle the assignment and present a solution. We also had a roundtable discussion with active employees and attended lectures on logical thinking and other topics. What impressed me the most was the professionalism of all the employees. They faced their work very seriously but also with a sense of excitement, which made me realize how professional they were. I was able to experience teamwork, which is necessary in society, and clarified the skills I need, such as logical thinking, having a deeper understanding of the processes that lead to problem solving, and being able to communicate my thoughts more clearly. In the future, I would like to use what I learned in this internship to develop and hone the skills necessary for working adults.
Message to fellow students
I believe it is important to take on a variety of challenges, broaden your horizons, and be influenced by the people and things around you. Please participate in the internship program because I think that experiencing as many things as possible, failing, and learning will lead you to an even brighter future. I also recommend doing internships because they are a great first step towards job hunting.
(Faculty of Economics and Business Administration, Department of Economics, 3rd year)
Hakko Shokudo Kamoshika
Training with professionals in the fermentation business, enhancing your expertise and realizing your strengths
This year, we expanded our programs related to the studies in the Faculty of Bioenvironmental Sciences. The Internship Center organized a project team led by faculty members, and we collaborated together to form new partnerships with numerous companies and organizations. One of those organizations is Hakko Shokudo Kamoshika, where a student studying fermentation interned for two weeks. During the internship, she experienced production work such as preparing miso and amazake, as well as running the cafeteria, and planning online workshops.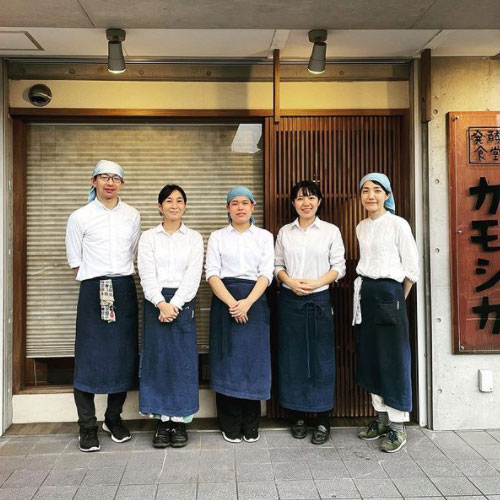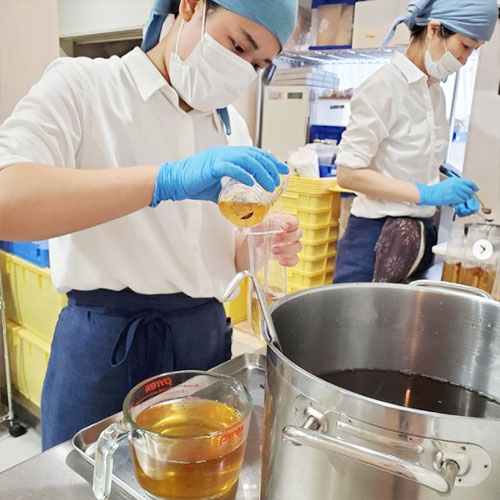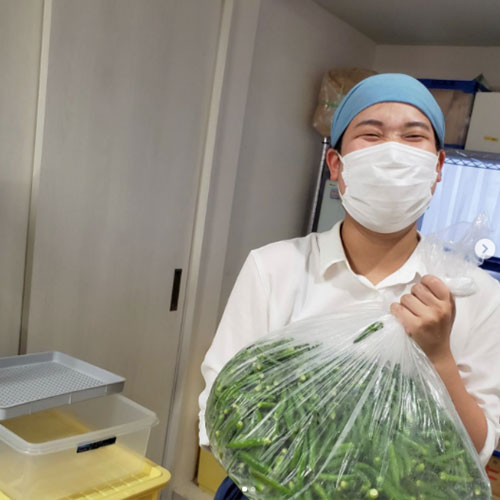 Student interview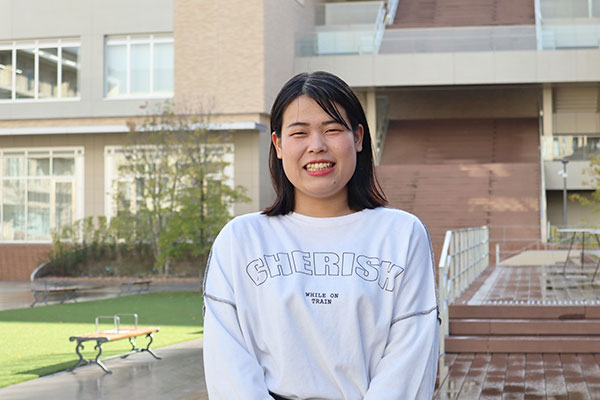 I was interested in food, so KUAS' Department of Agriculture and Food Technology really appealed to me because I could learn about the intersection between food production and agriculture, which are both important fields for realizing the new era of sixth sector industrialization. That's why I chose KUAS. I participated in the internship because it would be an opportunity to deepen my self understanding and knowledge of the industry. Through interning with Hakko Shokudo Kamoshika, a café/restaurant specializing in fermented foods, a field that I am particularly interested in, I became more passionate about achieving my future dream of "Bringing smiles to the faces of many people with my creations". During the internship, I discovered the fun in making proposals for sales promotions and also the difficulty of implementing them. I was also able to see the impact my work was making through the customers reactions as I carried out my task of making posts on social media. Looking back at the feedback I received from the employees after the internship as well as my own reflections on my actions and experiences in the post-study classes, I realized that my strength lies in my ability to communicate my thoughts while building relationships of trust with people. After the program ended, I felt that while the internship itself is great for gaining practical experience, the process of preparing and reflecting upon the internship have also become important food for thought for my future.
Message to fellow students
I think internships are a good opportunity to understand yourself. By getting opinions from the people around you and by thinking about what is expected of you, you can learn about your strengths and what you lack. So, I hope that you will experience this valuable opportunity and make use of it for your future.
(Faculty of Bioenvironmental Sciences, Department of Agriculture and Food Technology, 3rd year)
Internship Reports
---
Contact Us
Internship Center
Contact us by phone
Kyoto Uzumasa Campus
T E L: (075)406-9260
Hours: Weekdays 8: 30 ~ 17: 00
Contact us by email
MAIL: intern@kuas.ac.jp
(Please feel free to ask about internships, the experiences of students, etc.
*For emails received after hours, we will respond within the next few business days)